K.O. IN OHIO - NOVEMBER 21ST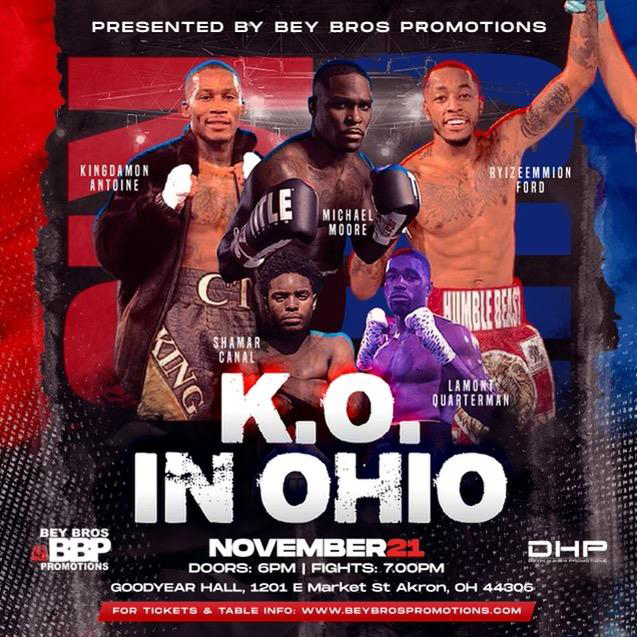 November 21st, 2021 | Doors: 6pm | Fights: 7pm
Location: Goodyear Hall, 1201 E Market St. Akron, Ohio 44306
PPV $29.95
Fight to Unite Championship Boxing
17 Amatuer Fights - October 30th at 4pm
In loving memory of Joseph Menaldi aka "Godfather of Heaven"
Press Release
October 30th 2021 (Fight to Unite our Communities) sponsored by USA amateur boxing,Arthur menaldi.com real estate Fightchannel.com ,USA Air Force And many others.
This event is taking place at 5030 Youngstown Poland Rd. At the Embassy Banquet Hall. Time 3pm doors open first bout will take place at 4pm.
We have 17 plus action packed fights on the show with many local athletes from around the area competing. LeAndre Jackson a Boardman High school graduate and a Thiel College student will be one of many...Marquae Calhoun a YSU student living on campus from Cleveland Ohio and currently the 2021 Tri State Golden Glove Champion ( Ohio Wv Kentucky) Marquae is 4-0 with 4 ko none of his bouts lasted more than 35 seconds. Kristoff Brydumn also a YSU student living on campus from Australia, Zion Hensley a Western Reserve student at 12 years old this young lady is #1 ranked female in United States at 90lbs she won Junior Olympics and has fought in 5 national tournaments across country.
Elijah Shores from Poland Ohio , Xavier Martinez from Howland Ohio, Giavoni Farina a Struthers Ohio graduate and fan favorite and extremely exciting to watch. Brandon King from Youngstown Ohio the 152 pound champion defending his title. Andre Averette a student at Boardman High school an outstanding wrestler turned to boxing he will be going for 3-0 Antonio Defrank a graduate from Austintown Fitch will be going for 4-0 record.
Armando DeFrank from Boardman Ohio will be going for his 3-0 record. These are just a few locally fighting on the show. We have gyms coming from Michigan, Pittsburgh Pennsylvania, Dayton Ohio , Columbus Ohio, Cleveland Ohio, Canton Ohio, Indianapolis Indiana, West Virginia, Louisville Kentucky, all under one roof.
Chris Hill New Castle pennsylvania graduate will be competing.
This event is to gather all walks of life all race all nationalities different Cities different states to join together and come together to say we agree with UNITY in our communities to show we can and will come together fellowship have good time put differences aside put hate aside put guns away drugs away greet meet new people and show our generations to come how we can and will get along.
All proceeds earned at this event will be used to keep the doors open at Youngstown Salem boxing Gym 5600 Market St Youngstown Ohio so the athletes can travel and compete across the country. The coaches are Pastor Rocky and First Lady Alecia DeFrank who opened the gym that is attached and in their Church Beautiful Feet Ministry that is at same address as the gym. It's all Ministry to see souls saved for eternity. One soul at a time to love and care for. This show is put on to unite our city of Youngstown Ohio do something positive for our area to allow these athletes to show there skill.
Tickets are $25 at door or you can buy them at Youngstown Salem Boxing Gym at 5600 market street or live on www.fightchannel.com 29.95 above during gym hours Monday Tuesday Thursday 3:30-8pm and Saturday 10am-1pm. After party is at Sr. jalapeños restaurant Youngstown Poland rd across street from event at the Embassy.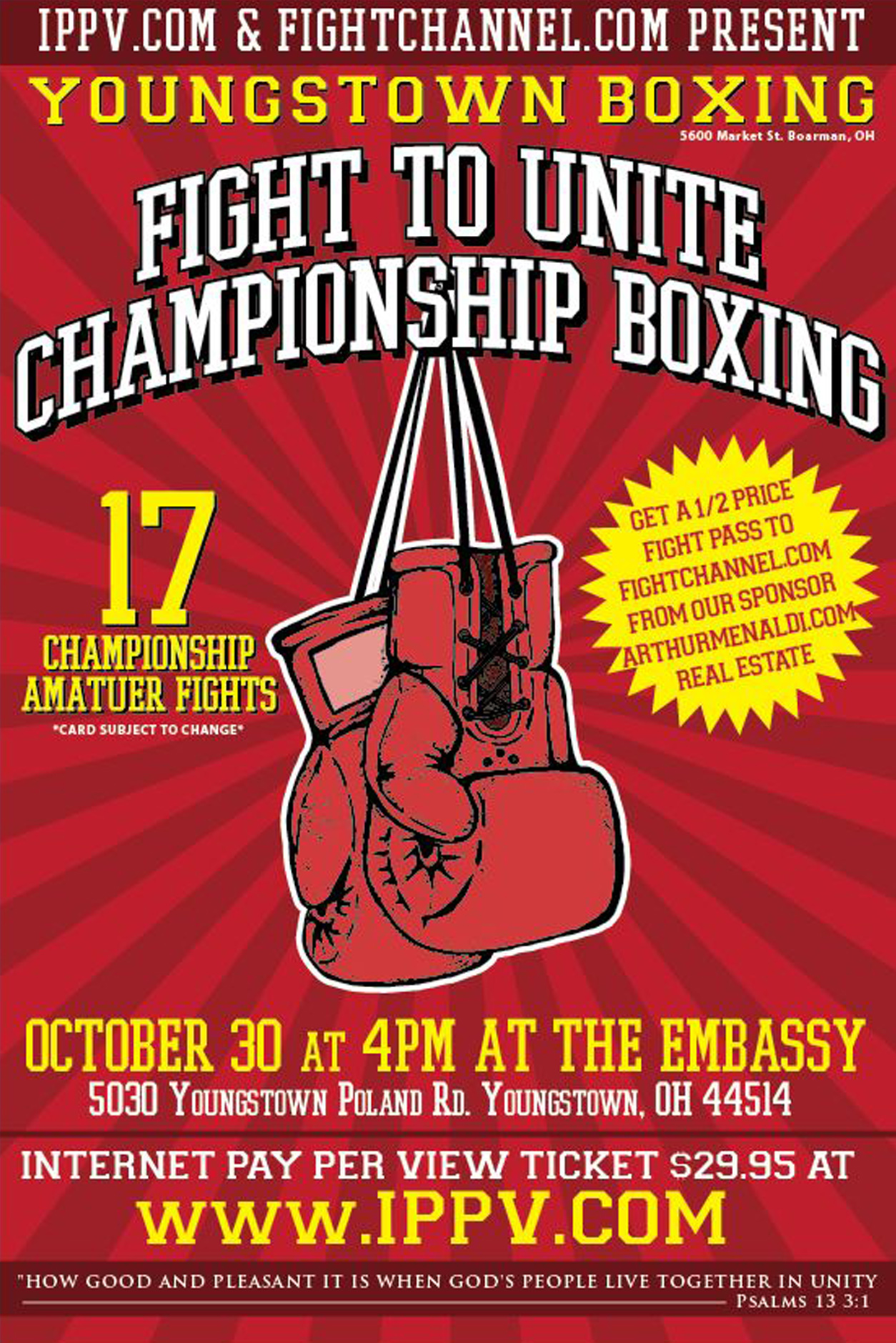 Fight to Unite Championship Boxing
17 Amatuer Fights
When: October 30th at 4pm
Location: The Embassy
Address: 5030 Youngstown Poland Rd. Youngstown, OH 44514
PPV $29.95